Screening Result: No Conflict
If your screening answers determine that you have no conflicts, and you have no active Significant Financial Entitites listed, you automatically skip past steps two and three and proceed directly to Step Four – Certify
Image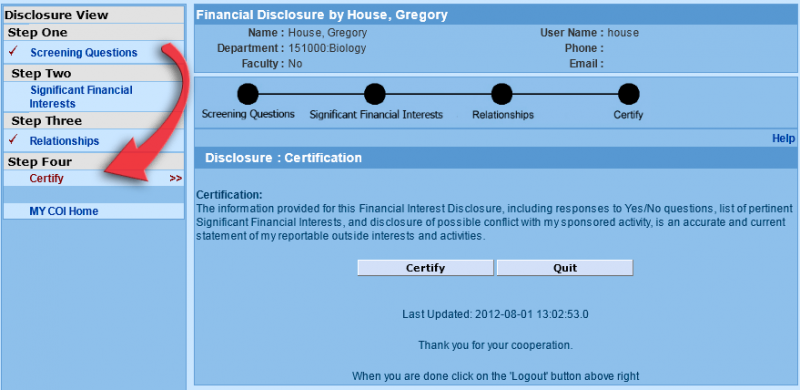 By clicking Certify on your Disclosure Certification page, you are confirming that the information provided for this Financial Interest Disclosure, in this case, the responses to the Screening Questions, is an accurate and current statement of your reportable outside interests and activities.
If you are ready to complete and submit your Disclosure, click the Certify button.
To review or revise your answers, click Screening Questions under Step One on the left navigation panel.
To save and and exit the disclosure without submitting, click Quit. You may return to complete this in-progress disclosure at another time by using the Other Disclosures in Progress option, described elsewhere in this guide.
To exit Coeus Lite, click the Logout tab in the masthead.
Image

Screening Result: Potential Conflict
If your screening answers determine that you may have a conflict, you will be presented with Step Two: Significant Financial Interests orientation page.
Click Continue to proceed to the SFI entry screen.
Image