The SFI orientation page provides some information about what you will be required to do in this step.
Image

Click Continue or Significant Financial Interests under Step Two in the left navigation bar to open your Investigator Significant Financial Interest home page.
Review your SFI list
If the entity referenced in your responses to the proposal screening questions is already listed and Active on your SFI home page, you may proceed with Step Two.
If the SFI is listed but marked as Inactive, click [Make Active] to update it and include this SFI in Step Three.
If the Significant Financial Interest is not listed on the screen, use Add Significant Financial Interest to include the SFI before proceeding with the disclosure.
Image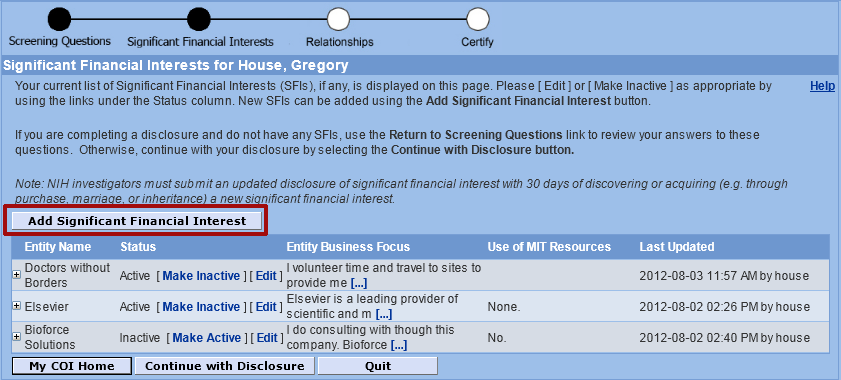 If you do not wish to complete the proposal disclosure at this time, click Quit to exit the disclosure or click My COI Home to return to that page. If you do not continue, you will need to finish this proposal disclosure at a future session to complete the proposal submission requirements.
To proceed, click Continue with Disclosure, or you can click Relationships under Step Three on the left navigation bar.