If you declined to complete your proposal disclosure after receiving the alert message when you saved your proposal certification questionnaire, you may prepare the Full Proposal Disclosure when you are ready in the COI module.
Click on the "My COI" tab in the masthead at the top of the screen. This will bring you to the COI Home Page.
Click the Other Disclosure(s) in Progress link in the

Revise

column in the center of the page.
Image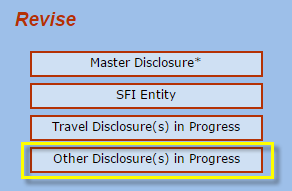 Why isn't my proposal listed in the Create New Proposal Disclosure proposal list?
You must have a fully answered Proposal Certification that prompted the need for a full disclosure to use this option. If your Project list is empty, as shown in the graphic below, you have not completed the proposal certification process.
Image

Note: The Create column's Proposal Disclosure option will no longer list proposals with un-started COI disclosures. All proposal disclosures will now be located in the Other Disclosure(s) in Progress under the Revise column in the middle of the page instead.
The Create New Proposal Disclosure List screen for new proposals with un-started COI disclosures will display the proposals with outstanding full disclosures.
Image

Please select the Event Type Proposal beside the proposal title to open a proposal disclosure.