If you choose to Save & Continue after completing relationships, you will proceed to Step Four: Certify. Read the Orientation screen text, and if you can comply, click Continue, or click Certify under Step Four on the left navigation bar.
Image

Carefully read the Certification statement indicating that all the information you provided in the Conflict of Interest Disclosure is accurate and represents a current statement of your reportable outside interests and activities.
Image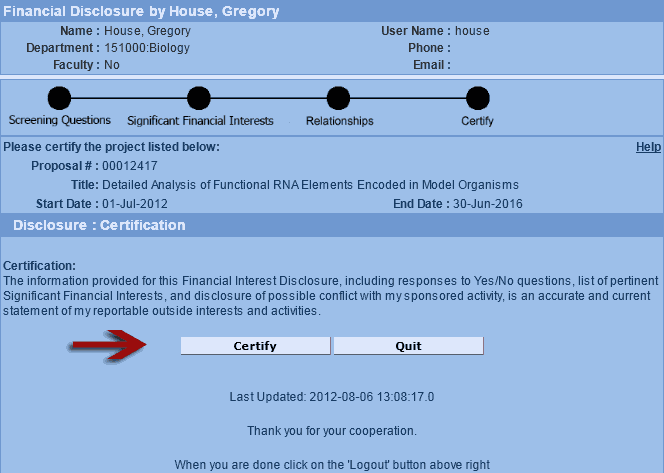 Reminder: if you click Quit you will exit the disclosure and must return to certify in another session.
A proposal that requires a full COI Disclosure cannot be submitted for approval routing until you complete and submit the proposal disclosure.
Click the Certify button. You will receive a confirmation of completion in a pop-up window.
Click OK to this message to be returned to the COI Home page.
Congratulations, your Full Proposal Disclosure is complete. You may:
Logout – click the Logout tab on the masthead
Navigate to another Coeus Module by clicking on a module tab in the masthead.